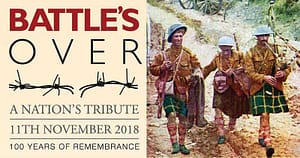 Pipers are being asked to take part in a unique and simple way to mark the centenary of the end of the Great War. The College of Piping is assisting with 'Battle's O'er – A Nation's Tribute'. This will be a mass playing of the retreat march, When the Battle's O'er outside cathedrals and other locations at 06:00 local time on Sunday, November 11, 2018.
Full details in the July Piping Times or by clicking HERE.
'Battles Over' wil begin with this mass piping tribute and end at 19:00 UK time when 1,000 beacons will be lit throughout the United Kingdom, Channel Islands, Isle of Man and UK Overseas Territories.
Hits: 277